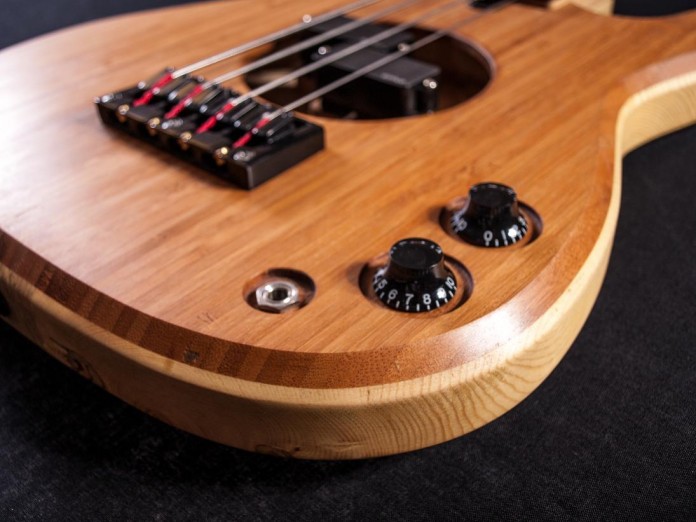 Chris fell in love with Blackfoot Lizard. But he wanted her fretless and with its old form that he found more interesting ..
And we just started.. "
The body was made of three pieces. In the middle pine- slightly wider than the Blackfoot Lizard to produce deeper and stronger sound in the acoustic form- and upper and lower lid made ​​from orange bamboo and oak respectively. We used a Yamaha neck which was made of maple and fretboard from rosewood. And we  turned into a fretless. The frets removed and arrived to cover the "gaps" with synthetic whitish point that proved very convenient. The easiest fretless bass we have used! Look@ the pics and you will understand why!
We also used a Yamaha bridge that provides full regulation. A pair of EMG pickups -type P-with a solderless circuit that uses a volume and a tone. Black Yamaha keys, black straps and black crystal knobs, with white numbers.
The sound of the instrument with the flatwound strings of Rotosound, is ward hot & deep and with the EMG powered up,  we have depth, sustain, as Chris asked. In particular, as the Blackfoot Lizard. Deep bass. Most classic, like an upright bass. The entire construction is lightweight -to transfer from live to rehearsal easily- and fretboard has a super soft touch! Chris smile, even before the bass "settles", worth both the effort and the cost !