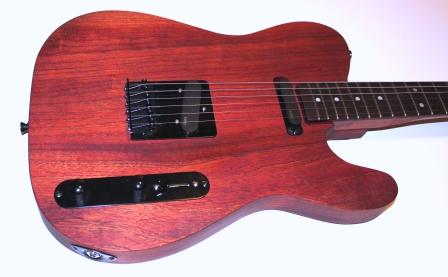 Another Tele came to the Teleline! Ordered specifically for Fotis. Who has seen and played with TeleTwin in a photo shoot and a love was born! The basic idea was minimal design, lighter overall for often live use. Found a piece of mahogany and the body of the guitar a full 5 mm narrower than the usual. We had worked on the arm on a
dark tone 

doussier, with a wenge fingerboard  filled with inlays from white pearl. Bridge fully adjustable with roller barels, a set of EMG active magnets for Tele, plate matt black with volume, tone and triple selector also from  EMG -free solders. Black locking keys placed on the narrow headstock -with rotary lock nut despite very conveniently.

The Ernie Ball Slinky strings took place and EMG produces clean and deep sound, did Fotis cheerful and us very proud. From ballad to blues and pop to hard rock sound, the instrument is complete and trully light!